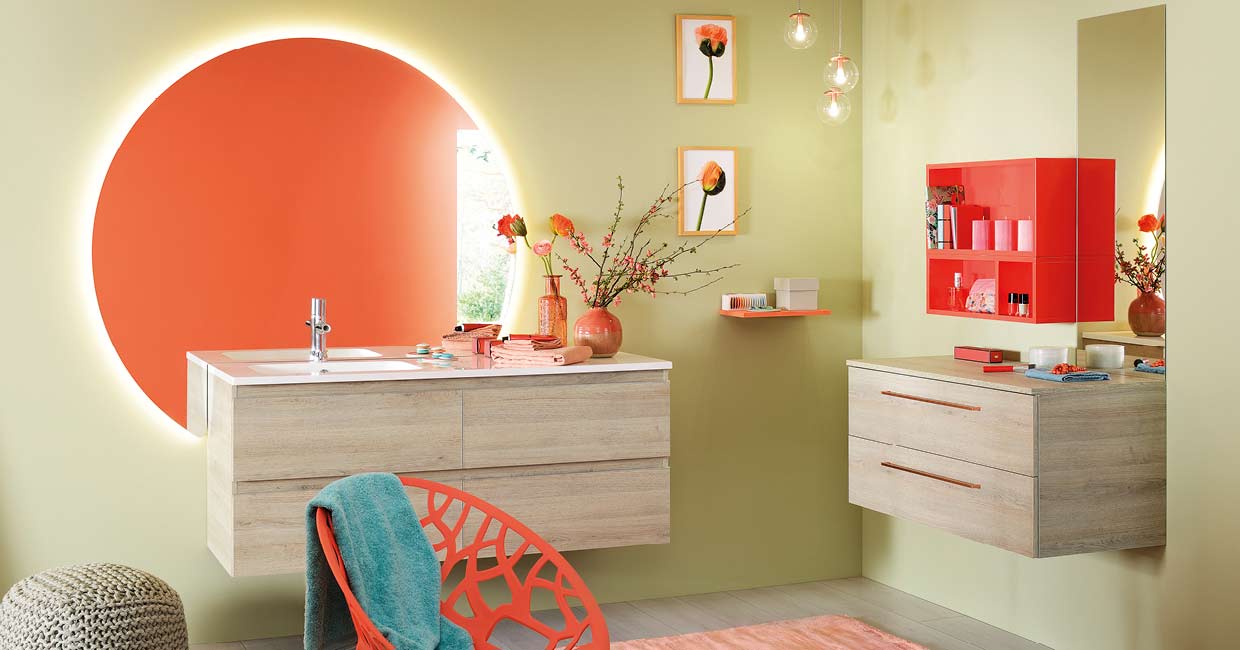 Photo: Lumen range, « chêne Alabama » decor set with a white synthetic vanity top
A Coral atmosphere for a Spring bathroom
By Sanijura l Published on the 20/03/19 at 10:00
What's the best way to celebrate the arrival of Spring than to redecorate your bathroom with coral, the colour of 2019?
Our Sanijura stylists were inspired by this bright colour and are going to take you to a universe full of gentleness and joy, with a Lumen bathroom made of "chêne Alabama" decor and its accessories made of Capucine lacquer. Just like the nature wakes up after several months of winter, wake up in a bathroom that has a special fresh grass and Spring flowers scent.
The softness of wood embraces colour
In this Coral bathroom, the Lumen furniture represents softness and nature with a "chêne Alabama" decor set that is light and discreet.
The off-centre basin made of white ceramic offers a nice storage space, to expose beauty accessories and beautiful flower bouquets. This rich and colourful decoration is declined in bright shades of coral, orange and powdered pink.
With an almond green background, the wall is clothed in light thanks to the Orbe mirror and its LED built-in lightning.
This XXL mirror is Sanijura's new 2019 release. The half circle enlarges the room et brings an airy and solar touch to this bathroom, promising you sweet sunny mornings.
Exaltation of colours and senses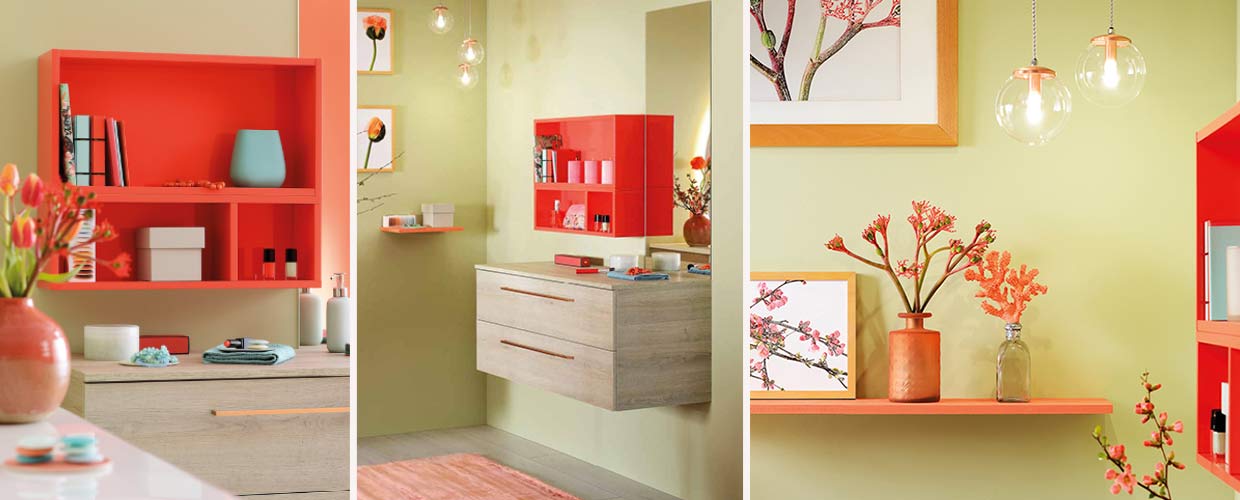 Photo: Halo « chêne Alabama » decor dresser, Wally Capucine wall units and a chrome Bubble LED lighting
As for storage space, our stylists chose a Halo suspended dresser that matches the furniture unit. This dresser allows you to store bathroom linens or makeup without cluttering the room.
The furniture unit is available with two chrome handles, a reminder to the colour of the Coral theme of this Spring bathroom.
The Wally Capucine wall units are overlaid to offer a place of honour for perfume, candles and other sensory pleasures.
On the shelves, the menthol makeup mixes with the liberty and coral fabrics, a nice flowery reminder to our Spring theme.
Finally, the transparency and illumination of Bubble, Sanijura's star lighting, with its blown glass globe, offers a hint of scattered light with three chrome suspensions.
SPRING IS INSPIRING
A bouquet of Spring
In this Spring atmosphere, the flower bouquets are honoured on the furniture unit and the dresser. Poetic and artistic, the beautiful season flowers are also exposed in the picture frames, for an endless blooming. And because our stylists leave nothing to chance, for this spring composition, they chose to combine two season flowers, Buttercups and Tulips, to a more exotic plant, the Jatropha Podgorica, more commonly known as the coral flower.
You also like ...
For the arrival of Spring, our stylists were inspired by Coral to create a flowery, colourful bathroom.

Discover our Lumen furniture, Sanijura's XXL range.

Elected colour of the year, Coral reinvents itself in the house. Discover our decoration tips to create a spring atmosphere in your bathroom.